Posted on 18/05/2018 by Richard Davies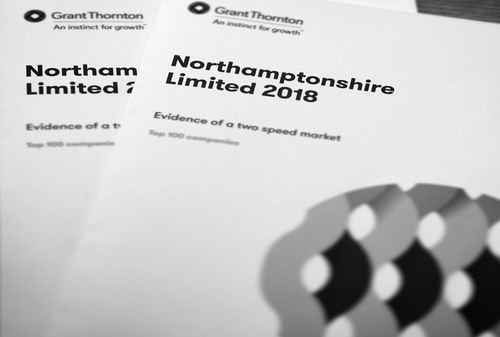 Another week another Grant Thornton presentation. As a resident of Northamptonshire, this one was of interest. I will declare that the invite was met with initial horror, because as a Wasps rugby supporter, the event was held at Franklin Gardens, home of arch rivals Northampton Saints. That said, with Saints finishing ninth in the table, there probably has never been a better time to be at the ground as an opposing supporter.
Now in its sixth year, Northamptonshire Ltd provides an insight into the performance of Northamptonshire's top 100 privately owned companies. The report excludes companies that are publicly listed, or owned by overseas businesses and encompasses companies with revenues ranging from around £12M to over £660M
The companies comprising Northamptonshire Ltd have had another strong year with significant increases in underlying profitability and employment, with the headline results showing revenue up 5.6% to just under £6 billion, with profit up 17.3% to just over £414M. However, there is a cautionary note on the profit growth; if the top four businesses are taken out of the equation that 17.3% becomes a little over 6%.
Mike Hughes , Director of Corporate Finance at Grant Thornton, Milton Keynes says that "this shows evidence of a two speed market". While a few businesses are storming ahead, perhaps the bulk of businesses within Northamptonshire Ltd are not doing as well as the figures suggest. Looking at the figures in the form of a growth index, a binary measurement on whether company has increased turnover or not, the report found that 68 of the top 100 companies increased turnover compared to 63 last year. However, only 61 grew profit and that compares to 67 in 2017 and that trend continues as the number who grew profit in 2016 stood at 73.
Let's not beat ourselves up, these are strong businesses as Mike Hughes pointed out. Looking at the balance sheet, an increase in fixed assets demonstrates that companies are investing in the long term and reinforces the confidence these businesses have for the future. The other metric gleaned from the balance sheet, is there was almost a 10% increase in net debt again evidence of confidence within businesses to borrow money for investment.
Northamptonshire Ltd employs just over 34,000 people with an average salary £28,700 which shows a decrease from last year of 1.6%. I suspect the report this time next year will show salaries on the increase. By comparison the average salary in Leicestershire is £26,100.
Comparing large businesses to the SMEs within the top hundred, SMEs defined as companies with a turnover of less than 50 million, both the large and SME businesses group turnover by 5.6% and headline growth and profit share of the large businesses is growing by 25.6% and SMEs by 7.1%. However, strip out those for high performing businesses, all large ones, and profit dropped just over 5%; so the SMEs outperformed their larger rivals.
The top five performing sectors by profit are food, drink and leisure; automotive and motor retail; property and construction; health care and education and retail and wholesale. The 100 are spread over a variety of sectors with no over reliance in one given sector.
Casting our eyes back to the first report compiled back in 2013, 55 companies remain from the original report, with these 55 having grown turnover by 27%. Not spectacular and some may argue slightly backwards, however profit from the 55 has grown by 96% suggesting that an increase in profit has been driven by cost cutting measures rather than top line growth.
I think if you were going to give Northamptonshire Ltd a school grade, it would probably be a B+.
There was also an interesting voting session and comments from a panel which comprised of Chris McDermott from Cambridge Weight Plan, Kieron Salter from KW Special Projects and Hilary Chipping, Chief Executive of SEMLEP.
Key findings from voting in the room:
Half of businesses are finding trading conditions more difficult than last year
The key driver for growth will be the hiring of (good) people - again!
40% feel that attracting people to their business would be down to an attractive remuneration package. Not necessarily salary but good benefits, opportunity and the likes of agile working
Better transport and infrastructure will be the most important factor to make Northamptonshire a more desirable place to work
Thank you to Mike Hughes and Fiona Baldwin, Practice Lead, Grant Thornton, Milton Keynes for the presentation.
A copy of the full report is available, so please email me at richarddavies@addingtonball.com and I will send one through.
One final observation, as we were leaving the ground, we passed a statue which I can only describe as a Centaur. Perhaps Saints fans have to go back to the era of Greek mythology to remember when they won something? I'll let you decide.