Posted on 28/09/2018 by Krishna Patel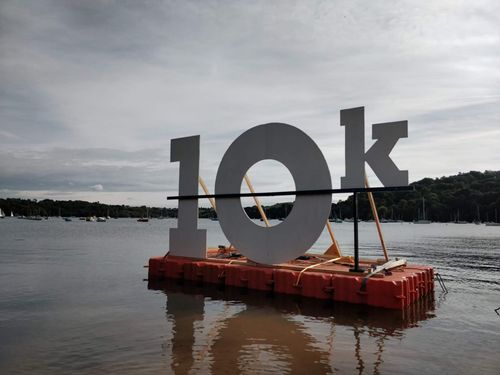 On 15th September one of our Directors, Ashley Ball, completed the Dart 10k swimming challenge in Devon. Why on Earth would you want to SWIM ten kilometres I hear you ask? Two reasons; the personal challenge and to raise money for the charity Level Water.
Level Water provide free swimming lessons for children with physical and sensory disabilities until they are ready to join a swim group. The charity created their programmes not only to allow children to learn how to swim but also because, 'through developing independence in the water, and being able to join mainstream classes, each child develops confidence, self-esteem and resilience.' Level Water were one of the official partnered charities for this year's Dart 10k event.
The Dart 10k was the first swim of its length on the open water calendar and 2018 was the 9th year of the event. Described by the Outdoor Swimming Society as 'a journey, not a race' approximately 1600+ swimmers from all over the country took on the challenge in the River Dart.
Ashley was one of five Kenilworth swimmers who together raised over £2,000 for Level Water. In total, a massive £120,000 was raised for the charity. Ashley was delighted with his time of 2 hours 42 minutes saying, "I genuinely didn't think I would complete the challenge in less than 3 hours however, it was such positive event and everyone was really motivated especially with a little assistance from the current!".
Well done Ash, a great effort for a great cause!!
Links:
Dart 10k: https://www.outdoorswimmingsociety.com/dart-10k-swim/
Level Water: https://www.levelwater.org/
Kenilworth Weekly News: https://www.kenilworthweeklynews.co.uk/news/kenilworth-swimmers-raise-more-than-2-000-for-charity-after-10km-swim-1-8638289