Posted on 20/11/2018 by Richard Davies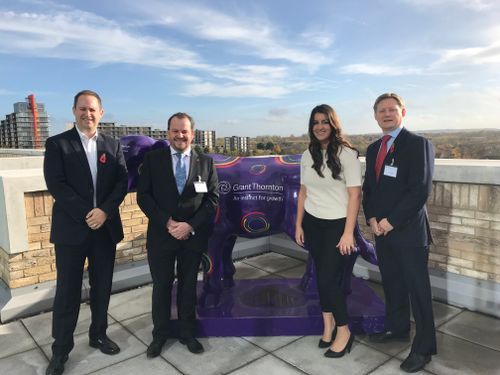 At the beginning of the month we were delighted to be invited to present at the Grant Thornton Director's Club, at their shiny new offices in Milton Keynes. We were treated to a presentation from GT's very own Owen Butler, Director and Senior Business Partner and Ellie Burford, Senior People Advisor. They both presented the key findings of the "People Power" report, on how high growth businesses are attracting talent to fuel growth. The key findings are;
There are four major challenges in the modern recruiting world:
Finding people with the mindset to drive growth now and in the future can be challenge
Competing for in-demand talent
Keeping talent and skills in a rapid growth environment
Quipping your people to be more than machines
Previously recruitment was a simple objective; you find a candidate with the right 'academic' and professional experience and you match them with a role. But in this day and age, it is important to work with a future perspective, look for talent not only relevant today but also with something to bring to the table in the future. '92% of high-growth businesses say they'll need people with skills that are not currently in the business within the next five years.'
One of the more obvious challenges would be recruiting for 'in-demand talent'. This is finding talent that everyone seems to be seeking at this moment in time and it can be particularly hard for smaller businesses. '88% of high-growth businesses expect an increase in competition for talent in the next year', and with a deprivation of skills in the labour market right now, it is only going to get harder.
Securing loyalty from the talent can be tricky one. '96% of high-growth businesses offer some kind of skills development training to their people', but many are worried that having acquired new skills, employees will then look to move on. This is where creating an attractive work environment comes into play; do not just equip your employees to do well for your business but also give them an incentive to stay. Understand their needs, make them feel appreciated and reward their hard work… then they will want to stay.
Whilst most UK employers say technical (59%) and digital (56%) skills are 'the most valuable skills for building a future career', a significant portion also believe entrepreneurial (43%) skills and emotional (41%) skills are vital to furthering ones' career. Organisations can encourage growth of these skills through formal and informal training, and can help employees 'think creatively, show empathy, work as a team and adapt quickly to change.'
If your business is having difficulty in recruiting the right talent for growth, then please call Addington Ball for a confidential initial consultation.
01926 290290