Posted on 18/05/2022 by Luke Scale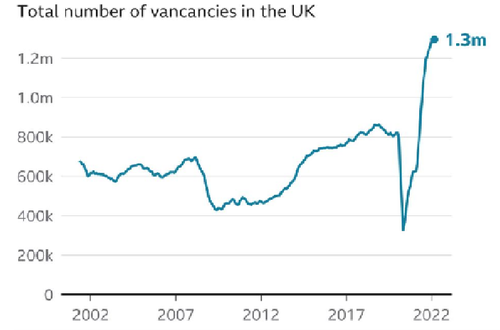 For the first time since records began, there are more job vacancies than unemployed people in the UK.
The unemployment rate fell in the first quarter of the year to 3.7%, its lowest for almost 50 years, as job vacancies rose to new record highs of 1.3 million across the nation.
At the same time, people moving from job-to-job also reached a record high, highlighting the ever-increasing demand for staff across the labour market. This presents an opportunity for jobseekers as business confidence remains high in attracting new talent.
However, demand from employers outstrips the supply of candidates, indicating the reason why starting salaries rose by 4.2% between January and March, with additional incentives such as bonuses and hybrid working on offer to attract and even retain talent in the workforce.
Employees have an important strategic decision to make; with the cost of living increasing by inflation of 9%, employees can stay with their current employer and receive annual pay rises of between 3% - 8% (a cut in real terms) or secure starting salary increases at a new employer between 6% - 15%?
Faisal Islam, BBC Economic editor, said:
"The unemployment rate falling to its lowest level in almost half a century is a testament to the full recovery from the losses in the pandemic and the protections put in place over the past two years."
"And then for businesses seeking workers - those vacancies reached a new record of close to 1.3 million. This is a reflection of a reduction in the size of the workforce, from post-Brexit worker rules, older workers retiring during the pandemic and a rise in long term sickness."
__________________________________________________________________________________
Businesses are facing challenging conditions in the labour market because candidate supply can't meet the demand along with the high levels of competition amongst employers to attract and retain employees. As a result, businesses continue to make their jobs as attractive to candidates as possible to attract the skills and talent within their business.
Employers are increasingly turning to specialist recruiter Addington Ball to enhance their options due to the pool of candidates in comparison to the deteriorating pool of candidates available. Addington Ball has an established and highly developed network of financial professionals operating in the Midlands region. If your business is not getting the appropriate calibre of candidate, then call Addington Ball on 01926 290290 for a confidential conversation about your requirements.
Addington Ball is a leading finance recruiter based in the Midlands, specialising in the recruitment of finance and accountancy professionals. If you are considering a change of scenery or a fresh challenge, search for your next opportunity via our job search page.
Original Source: https://www.bbc.co.uk/news/uk-61475720